Want to play? Get in touch!
If you would like to join our league next season, sign up or contact us to find out more information.
Email
Our Leagues Enjoy:
Spring and/or Fall Seasons available

Learning the game of baseball in a fun enviroment

Co-ed Play (Boys & Girls)

Fun & Social Refs, Umpires, Administrators and Staff

Family Friendly environment/events
Connect with us:
Welcome to Southside Ball!!


Fall Ball is underway! It's going to be a great season!

**7 and older
Wednesdays, 5:45pm to 7:15pm, beginning Sept 3
Week 1 - defensive fundamentals/pitching mechanics
Week 2 - hitting fundamentals/bunting/baserunning
Week 3 - pitching mechanics/catching fundamentals/defensive throwing accuracy
Week 4 - hitting approaches/outfield & infield footwork
Week 5 - overall pitching/catchers throwing accuracy/bunting/baserunning
Week 6 - flyball communication/overall hitting
Week 7 - REVIEW of ALL material covered
TBD Scrimmages and Games will be Sunday afternoons beginning late Sept
**5-6 begins Sept 2.
Parents will be contacted with practice dates/times by August 29.
Games will be Sunday afternoons between 1-4pm
ONLY $110
Registration ends Wednesday (Aug. 27)!!
The Fall season will begin on September 3, 2014.

Click here to register for fall!

Birmingham Barons and Southside Ball!

This year, many of our very own Southside players have gotten the opportunity to interview Birmingham Baron's players!

See the latest of Southside Ball in the news here!
2014 Southside Spring All Stars!!

GO SOUTHSIDE!!!
Make sure to check the calendar for additional information about the upcoming season.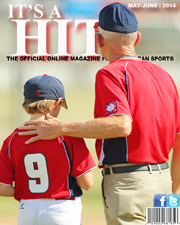 ITS A HIT!
Online Youth Baseball Magazine for Dizzy Dean Baseball
May -Jun 2014 Edition